I love the title of this book, HEADING OUT TO WONDERFUL by Robert Goolrick
.
"When you're young, you head out to wonderful....but before you get to wonderful, you pass through all right...and that may be as far as you'll ever go..."
Told through the eyes of an elderly man looking back on events that changed his life, this new book is full of suspense, obsession and love gone terribly wrong.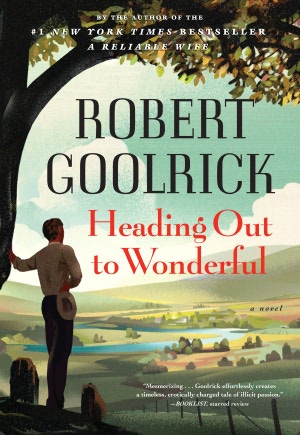 To Order Click on the Amazon Search Box
The story is not a new one ..a handsome stranger shows up in a quiet town in Virgina. He has two suitcases: one contains his possessions, including a set of butcher knives: the other is full of money.
He meets the townsfolk and a beautiful woman..You fill in the blanks..
The tale is a powerful one, though ..It reads like a folk ballad and the author tells a suspenseful story.
Robert Goolrick is the author of the bestseller, A Reliable Wife. He also authored the memoir The End of the World as We Know It. Goolrick lives in Virginia.
The blog reader who recommended this book
would not give it a rating...He said it was a
matter of personal taste...so is everything.
Heading Out to Wonderful will be released June 12th.