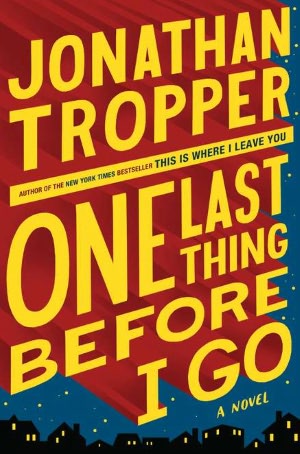 To Order Click On Amazon Search Box
Jonathan Tropper is a best selling author and a favorite of mine. This week he will be debuting a new novel titled ONE LAST THING BEFORE I GO, an intriguing novel about men, "their lust, rage and sweetness."
Tropper has created a middle aged, kind of a lost soul character who readers will love. Drew Silver has made a lot of mistakes in life so when he's told he requires life threatening surgery, he refuses, choosing instead to repair his relationships, become a better person and live in the moment.
Reviewers have said that "Tropper gets men and entertainingly examines the angst of middle-age masculinity." This book actually gives an inciteful peek into family life and Tropper has the ability to express it with humor and pathos combined.
Jonathan Tropper has written five successful best selling novels. His most recent is THIS IS WHERE I LEAVE YOU. He is a screenwriter and the co-creator and executive producer of the HBO/Cinemax television show Banshee, premiering in 2013.