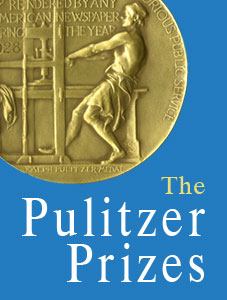 The Pulitzer Prizes were announced on Monday. Following is the list of winners in Fiction, Drama and History. (Personally I liked a few of the finalists better.)
FICTION
ADAM JOHNSON
"The Orphan Master's Son"
Mr. Johnson, 45, was cited by the board for an "exquisitely crafted novel that carries the reader on an adventuresome journey into the depths of totalitarian North Korea and into the most intimate spaces of the human heart."
While writing the novel, Mr. Johnson said, he read propaganda and books approved by the regime. He eventually included Kim Jong-il, the late North Korean leader, as a character in the book. "I came to, not feel for him, but to see a human dimension in him," he said. "He was a very cunning person, a very witty person. He had flaws like all people. The more I studied him the more I realized that he was a very human figure."
Finalists Nathan Englander, "What We Talk About When We Talk About Anne Frank"; Eowyn Ivey, "The Snow Child."
(I preferred both finalists...The Snow Child was my favorite.)
DRAMA
AYAD AKHTAR
"Disgraced"
Mr. Akhtar, 42, a Pakistani-American, grew up admiring the films of Woody Allen and longed to set a play "in that milieu of the moneyed intelligentsia of New York — but with a character who shared my ethnicity." In "Disgraced," that character is Amir, a successful corporate lawyer whose deep-seated self-loathing is fully revealed at a dinner party that is classic Manhattan, with talk of art and money giving way to suspicion and hatred.
Mr. Akhtar is also a novelist and actor, and is now at work on his second novel while preparing his next play, "The Who & The What," for its world premiere in California next winter. If "Disgraced" was a metaphorical riff on "Othello," the next play is a similar meditation on "The Taming of the Shrew," he said on Monday. "Both plays are about Muslim Americans," he said, "but the new one is a comedy."
Finalists Gina Gionfriddo, "Rapture, Blister, Burn"; Amy Herzog, "4000 Miles."
HISTORY
FREDRIK LOGEVALL
"Embers of War: The Fall of an Empire and the Making of America's Vietnam"
How did the United States get drawn into war in Vietnam, ignoring France's bitter post-World War II experience there? In a follow-up to a book focused on America's role in Vietnam in the 1960s, "Choosing War," Mr. Logevall, a professor of history at Cornell, has provided what his Pulitzer citation called "a balanced, deeply researched history" of that long, unintended slide into a conflict that proved unwinnable
Finalists Bernard Bailyn, "The Barbarous Years: The Peopling of British North America: The Conflict of Civilizations, 1600-1675; John Fabian Witt, "Lincoln's Code: The Laws of War in American History."
BIOGRAPHY
TOM REISS
"The Black Count: Glory, Revolution, Betrayal, and the Real Count of Monte Cristo
"
Alexandre Dumas's famous novel was inspired by the life of his father, Thomas-Alexandre, who was born to a slave woman in Haiti but rose to a general's rank in the French Army until he incurred the enmity of Napoleon.
"For me the great thrill of this book is that I pulled somebody out of the pages of fiction, who was forgotten about in fact, and showed his exploits to be a true story," said Mr. Reiss, who learned of his prize while sitting in a dentist's chair. "It's swashbuckling, but for a purpose. He was the highest-ranking black leader in a white society until modern times and really a very serious revolutionary."
Finalists Michael Gorra, "Portrait of a Novel: Henry James and the Making of an American Masterpiece"; David Nasaw, "The Patriarch: The Remarkable Life