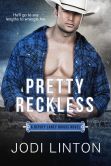 Meet Jodi Linton, another new author debuting her first novel, PRETTY RECKLESS. Reviewers called it "full of sassy dialogue with more twists and turns than a bucking bronc at a rodeo!."


If you're looking for a fun, colorful read, pick up the Kindle edition of PRETTY RECKLESS by Jodi Linton on Amazon at the bargain price of .99 cents!

(Use the Amazon Search Box in the Sidebar)





PRETTY RECKLESS BY JODI LINTON



....... As one reviewer said, "You'll be roped in from the git-go!"





Jodi Linton lives and works in Texas, with her husband and two kids. She can be found cozied up to the computer escaping into a quirky world of tall tales, sexy, tight jean wearing cowboys, and a protagonist with a sharp-tongue quick enough to hang any man out to dry. PRETTY RECKLESS is her first novel. She is currently at work on her next Deputy Laney Briggs book.
PLEASE SUPPORT UNKNOWN INDEPENDENT AUTHORS!