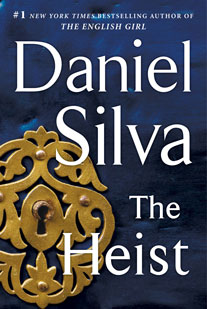 A stolen masterpiece by Caravaggio goes missing in #1 New York Times author Daniel Silva's latest action-packed tale of high stakes and international intrigue. THE HEIST, Silva's latest thriller is sure to hold your interest... Ready for some thrills? This is it.....
THE HEIST by Daniel Silva
Legendary spy and art restorer Gabriel Allon is in Venice repairing an altarpiece by Veronese when he receives an urgent summons from the Italian police. The eccentric London art dealer Julian Isherwood has stumbled upon a chilling murder scene in Lake Como, and is being held as a suspect. To save his friend, Gabriel must track down the real killers and then perform one simple task: find the most famous missing painting in the world.
Master novelist Daniel Silva has thrilled readers with 16 thoughtful and gripping spy novels featuring a diverse cast of compelling characters and ingenious plots that have taken them around the globe and back --- from the United States to Europe, Russia to the Middle East. His brilliant creation, Gabriel Allon --- art restorer, assassin, spy --- has joined the pantheon of great fictional secret agents, including George Smiley, Jack Ryan, Jason Bourne and Simon Templar.
Following the success of his smash hit THE ENGLISH GIRL, Daniel Silva returns with another powerhouse of a novel that showcases his outstanding skill and brilliant imagination, and is sure to be a must read for both his multitudes of fans and growing legions of converts.
BUY THE HEIST IMMEDIATELY...CLICK ON THE AMAZON SEARCH BOX IN THE SIDEBAR.